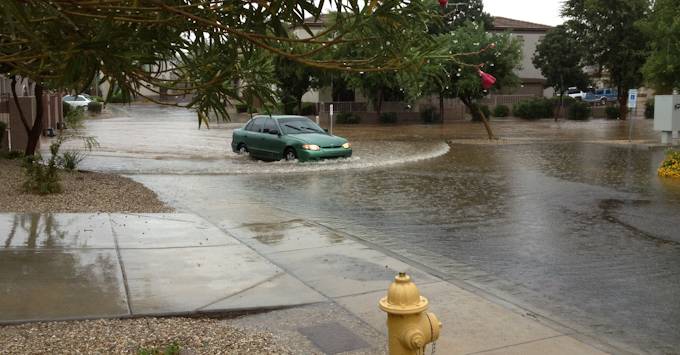 You love living on the lake – there's nothing quite like having such a great source of recreation and relaxation right out your back door.  However, with having a lake home or cabin, there are additional risks that you should be aware of. Namely, losses due to a flood.
While you can't recall a flood ever occurring on your property, or that of anyone's property on the lake or river, that doesn't mean it couldn't happen. In fact, floods can occur anywhere, regardless of whether or not you're even near a lake or river.
What is Flood Insurance?
Contrary to what some people might believe, losses due to flood are not covered as part of any homeowner insurance policy.  A separate flood insurance policy is the only way to protect a building and its contents in the event of an inundation of water.
Flood insurance will reimburse you to rebuild a structure, including repairing the foundation, walls, floors, plumbing, electrical, and appliances, as well as replace the personal belongings inside the building, such as clothing, furniture, electronics, furnishings and more. However, it does not provide coverage for the loss of trees, grass and other land features on your property.
How Can I Get Flood Insurance?
Flood insurance can be purchased through any of the Noah Insurance Group Locations. But unlike auto or homeowners insurance, it is administered by the Federal Emergency Management Agency (FEMA) and made available through the National Flood Insurance Program (NFIP). Because it is a federal program, rates will be the same regardless where your policy is purchased, so it doesn't make sense to shop around thinking you'll get a better deal elsewhere. Rates are determined by factors such the building's original construction date, the type of property being insured, its level of risk for flooding and more.
While flood insurance is optional for many, it is required if your home is located in a high-risk flood area and the mortgage for it originates from federally regulated or insured lenders. 
There are some other things you should know about flood insurance. First, there's a 30-day waiting period from the date you buy a flood insurance policy before it goes into effect. If something happens in the interim, you would not be covered. Second, unlike many other types of insurance that allow for payment installations, flood insurance requires a full year's premium at the time of payment. There are some discounts available, though, if the city in which you live participates in the Community Rating System (CRS).
Do You Need Flood Insurance?
So regardless of whether you live on a lake, river, or far from water, there's a possibility that you could experience flooding. Whether you are a homeowner, renter, or business owner, you should consider your exposure, and balance that with your ability to recover from a loss due to flood. If you'd like a flood insurance quote, give us a call or stop in, we'd be glad to help.