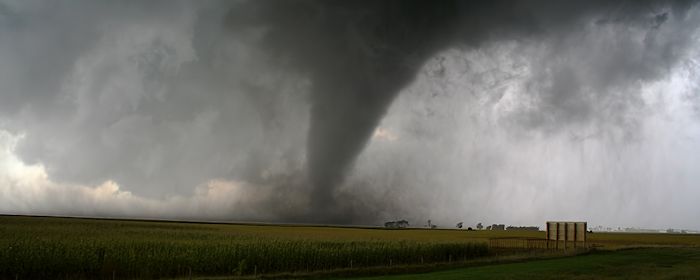 Just as we are recovering from blinding snowstorms and icy roads, we "welcome" tornado season. Instead of hearing wind chill statistics, prepare to hear about the F scale—the method used to rate the intensity of a tornado.
Tornadoes run the gamut from F0 through F5, signifying the lowest to highest wind speeds. However, even an F0 tornado has wind speeds of 40-72 miles per hour, which can do plenty of damage. Typically F0 winds down branches and small trees thus wreak havoc on your landscaping, damage cars, roofs. At the other end of the scale, F5 winds of 216-318 miles per hour destroy everything in their path.
In this part of the country, most homeowners policies cover tornado damage. The insurance industry has several standard policies, and the most common homeowners policy is an HO-3. The HO-3 policy features four types of property coverage:
Coverage A is the amount you could receive if your home is totally lost.
Coverage B is the amount you could receive if other structures are lost.
Coverage C is the amount you could receive if personal property is lost.
Coverage D is the amount you could receive for additional living expenses.
The dollar amount of coverage available depends on your policy. You should review coverage amounts with your insurance agent to make sure they are adequate.
Rebuilding cost is not the fair market value or purchase price, it refers to the total cost of the materials and labor to replace your home. Noah Insurance Group agents have been handling claims in these parts for over twenty–five years. They can help determine what it would cost to rebuild your home.
The insurance company will pay the cost of partial damage to your home, less your deductible, provided you are adequately insured. If not, the insurance company will pay a lesser amount.
Call or stop by one our five convenient locations to make sure you are ready to "welcome" tornado season. We have three offices in western Wisconsin (Amery, Osceola, Cumberland) as well as two offices in Minnesota (Stillwater and Forest Lake). We are an independent agency, meaning we work with many reputable insurance companies.
Stay safe!