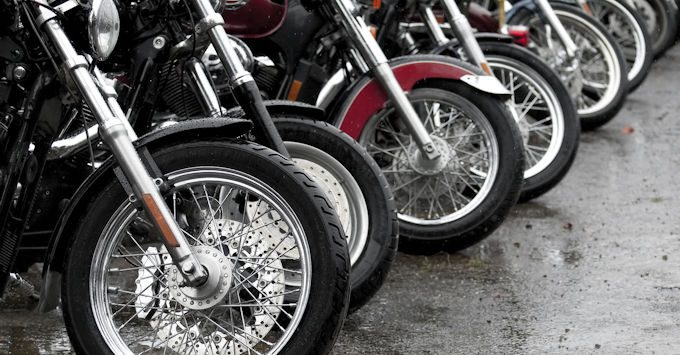 If you live in Wisconsin or Minnesota and own a motorcycle, there are some things about motorcycle insurance and safety you should know. In this post, we will explore questions and answers about insuring your ride and keeping you safe while you are on the road.
Motorcycle Insurance
Is Motorcycle Insurance Required in Wisconsin and Minnesota?
Motorcycle insurance is required in both Wisconsin and Minnesota. Wisconsin state law requires that owners of motorcycles carry a minimum of $25,000/$50,000 Bodily Injury coverage, while Minnesota law requires $30,000/$60,000 Bodily Injury coverage. Additionally, both Wisconsin and Minnesota require a minimum of $10,000 in Property Damage coverage.  While state minimum liability limits satisfy state law, it is not enough coverage in our opinion. It is common for bodily injury claims to far exceed $25,000 or $30,000. Without higher limits, you will be left on the hook for any damages above your limits.
What Other Insurance Coverage Is Recommended for Motorcycles?
As with cars and trucks, there are additional coverages available for motorcycles beyond that which is required by state law. For example, if you borrowed money to buy your motorcycle, your bank or credit union will likely require you have physical damage coverage in place in the form of Collision and Comprehensive coverage.  Other recommended coverage includes, but is not limited to:
Uninsured/underinsured motorist coverage
Medical Payments
Roadside Assistance
Additional Accessory Coverage
Coverage amounts and deductibles that are available may differ from company to company.
Are Accessories and Customizations Covered by Motorcycle Insurance?
Any alterations made to a motorcycle that change its look or performance beyond what the original manufacturer intended may not be covered standard insurance.
It is quite common for motorcycle owners to add aftermarket parts to their bike to make it their own. It is often the case that Harley Davidson owners to add aftermarket exhaust, and lots of chrome to their bike. Others will go as far as having a custom paint job as well. If you fall into this category.  You should talk to your agent about additional insurance.
Motorcycle Safety
What Are Common Hazards for Motorcycles?
One of the most common hazards to a motorcyclist is simply not being seen by others. It is easy for drivers of automobiles and trucks to not see a motorcycle due to its size among other things. Because of this, motorcyclist should pay particular attention to their surroundings and drive defensively.
Other common hazards are self-imposed. They are accidents related to excessive speed and/or use of alcohol. Driving a motorcycle requires more attention and skill than driving a car. Drivers impaired by alcohol are not as aware of their surroundings and don't have as good of a reaction time as sober motorcyclists. Nearly half of all motorcycle deaths involve just the bike and no other vehicles.
What Other Hazards Are There for Wisconsin and Minnesota Motorcyclists?
In addition to hazards such as collision, fire, vandalism, and theft; minor weather incidents can cause great issues for motorcyclists. For example, in the spring of the year motorcyclists are eager to get out on the road, sometimes too eager. A common hazard in the spring of the year is the leftover sand and gravel that was spread on roads throughout the winter to prevent loss of traction. Ironically, that is exactly what happens when a cyclist banks into a corner covered with sand and light gravel. Another common spring hazard can be a light frost on the road in the early morning.
During the late spring and summer months, a sudden summer storm can make motorcycles more prone to losing control due to heavy rain and wind. Hail can also be very dangerous for motorcycle drivers, as there is no protection from the pelting beyond your helmet.  As you can see, there is a lot for a motorcyclist to be aware of when heading out for a ride.
Does Wearing a Helmet Make a Difference?
Besides keeping the bugs out of your eyes and mouth, wearing a helmet could save your life.
Head injury is a leading cause of death in motorcycle crashes. A recent study indicated that wearing a helmet was the most important factor in preventing and reducing head and neck injuries for motorcycle drivers and passengers who experience an accident. Riders who do not wear helmets and who are involved in an accident are 40-percent more likely to suffer a fatal head injury. While it is not the law in either Wisconsin or Minnesota for riders 18-years of age and older to wear a helmet, it is a smart choice.
Summary
Motorcycles are fun and can be safe as well. Take the time to learn about how you can reduce your risk and enjoy the back roads of Wisconsin and Minnesota.
As for Motorcycle insurance, be sure to reach out to your local Noah Insurance Group agent if you have questions or would like a quote. They will be able to an answer your questions and help you find the right policy for your needs.