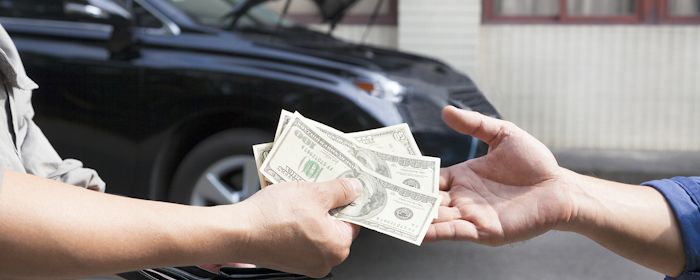 Those of us living in western Wisconsin and eastern Minnesota have a tough choice—Vikings or Packers? You can't be both and there's no way to "hedge your bets." That's all the more reason to hedge your bets, that is, counterbalance your risk of loss, in other areas of your life. How? Choosing a car insurance policy with an appropriate deductible is a start.
Buying Insurance
When you bet on a football game, in the end you've either won or lost it all. No sweat, the financial stakes are small. But when playing the game of life, events such as bad weather, vandalism, or car accidents pose much higher financial stakes. Don't risk losing all. While risks are part of life, you can hedge the financial loss with insurance.
Understanding Insurance
An insurance policy is basically a contract. You promise to pay periodic premiums, and the insurance company promises to pay for a portion of the expenses that are the result of a covered loss. The portion paid by the company is generally the amount of your loss, up to your policy limits, less your deductible.
Considering Examples
Suppose a tree branch falls on your car during a summer thunderstorm and it causes a small dent and some scratches. The cost to repair the damage is $1000.
If you have no insurance, you are out $1000. This the all-or-nothing approach, a risk you might take on a friendly bet between the Packers and Vikings with friends, but unwise in life.
If you have car insurance with $250-deductible*, you will pay $250 and the insurance company will pay $750. In this scenario, you are agreeing to take on some risk with a relatively small deductible.
If you have car insurance with a $500-deductible*, you will pay $500 and the insurance company will pay $500. The premiums on a policy with a higher deductible would be less than the premiums paid for one with a lower deductible because you are agreeing to take on more of the risk.
Here's another example: It's early November and you're driving at night. Before you even have a chance to react, a buck in rut runs out in front of you and you hit him. The cost to repair your car is $5000.
If you have no insurance, you are out $5000. Ouch.
If you have $500-deductible* car insurance policy, you will pay $500 and the insurance company will pay $4500.
If you have a $1000-deductible* car insurance policy, you will pay $1000 and the insurance company will pay $4000.
Understand Deductibles in the Context of Coverage Types
The previous examples concern claims under the "comprehensive" portion of an insurance policy. This portion responds to damages caused by something other than a collision. In addition to those described above, another common type of comprehensive claim results from vandalism.
The deductible will also impact the payout on a "collision" claim. These claims result from damages to your car resulting from a collision that is not someone else's fault. For example, if you skid on an icy road and hit a light pole, you would make a claim under the collision portion of your policy.
Choose the Appropriate Car Insurance Deductible
Deciding between a lower-deductible, higher-premium policy and a higher-deductible, lower premium policy takes some careful thought. When choosing a deductible for your car insurance, here are a couple things you should consider:
Assess the probability that you will have a claim. Think about the where you live–local weather and crime rate. What is your driving record like? Do others drive your car?
Reflect on your financial situation. Realistically you will suffer some kind of loss at some point. How much of the resulting expense could you afford out-of-pocket without jeopardizing your financial security?
You can discuss the options with the staff at Noah Insurance. They counsel clients—your friends and neighbors—every day.
Don't Bet on a Risk-Free Life
Enjoy your life. Be careful but don't let fear of loss hold you back. Instead, insure your risk. You have several options to avoid the
all-or-nothing approach. Noah Insurance has been helping people choose insurance options since 1982. Call us at or stop in at one of our five convenient locations:
We employ both Packers and Vikings fans and will throw in a football recommendation for free!