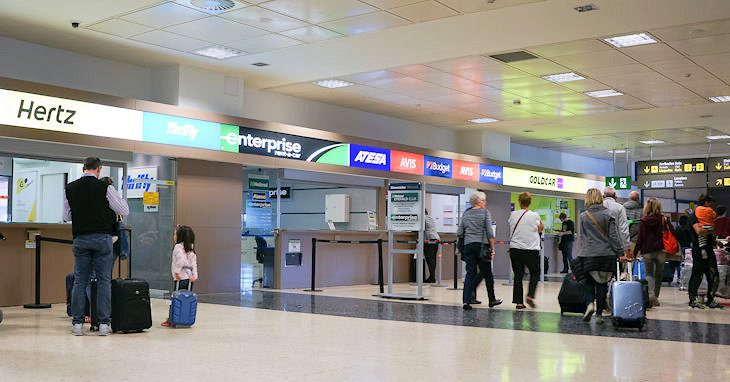 If you've ever rented a car, you know how expensive the collision damage waiver can be. Adding this extra coverage to your daily rental fee can quickly induce sticker shock and have you thinking twice about whether the extra protection is worth the cost. For some, the coverage is absolutely essential. For others, it might be considered unnecessary. Before you agree to spend an extra $100 per week on rental car insurance, continue reading to find out if the benefits are worth the cost.
Redundant Coverage
For many people, collision damage waivers provide redundant coverage already available from an auto insurance policy or coverage provided by your credit card. If you have collision and comprehensive coverage on your personal auto insurance policy, the coverage likely transfers to your rental vehicle when you drive it. Of course, the deductibles will still apply, and the coverage might not be valid if you drive the vehicle for commercial purposes, but in most cases, it can provide all of the protection you need to cover the cost of covered damages to a rental car.
Many credit card companies also feature collision and theft coverage for rental cars as a perk of membership. In most cases, the insurance is secondary to the coverage on your primary policy, meaning it will pick up where the insurance company leaves off. That means you may be able to rely on your credit card company to pick up the cost of your deductible so long as you used that card to pay for the rental. However, you should check with your credit card company to verify benefits first. Some card companies require that you decline the rental car company's collision damage waiver in order to qualify for coverage.
The Benefits of Collision Damage Waivers
Even if you have private car insurance, the collision damage waiver might still make sense for your individual needs. Generally, the coverage offered by the rental company provides attractive benefits that may not be available with your private coverage. To start, there is no deductible or shared financial responsibility when you purchase the collision damage waiver. Instead, all financial loss liability is forgiven by the rental company, and you can walk away from the vehicle with no out of pocket loss.
You might also consider purchasing rental car insurance if you are concerned about your personal claims record. Filing a collision or comprehensive claim against your personal policy can result in premium rate increases, as well as greater difficulty finding and maintaining coverage. With the collision damage waiver, there are no claims to file, and to your insurance company, it's like nothing ever happened.
Finally, the collision damage waiver can relieve you of the frustrations that come with using a third-party insurer. If the rental company has a vehicle repaired or replaced before your insurer settles a claim, you could be charged for damages personally. Furthermore, collision damage waivers typically cover all losses, including loss of use, administrative fees, towing charges, and more. Without this protection, you might be on the hook for loss assessments not covered by your insurer.
Is Rental Car Insurance Right for You?
At the end of the day, the decision to purchase or decline rental car insurance is one that you should make based on your risk tolerance, existing coverage, and personal preferences. For more information about rental car coverage or to find out what type of protection exists within your personal auto insurance policy, contact your friends at Noah Insurance Group.