Rental Car Insurance 101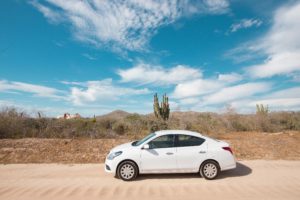 You've booked the flights.  Now you have to book the rental car to get around during your vacation.  What happens if there is an accident while you're relaxing on your break?
First: Check the coverage on your personal car insurance policy.
Sometimes, the coverage you have extends to a rental car. You might be doubling your coverage if you purchase rental car insurance. So first, understand your own coverage:
Liability coverage: If you cause an accident, this may help pay for another person's medical bills or damage to property.
Comprehensive coverage: May help if your windshield needs to be repaired or replaced.  Additionally, it may help if there is damage to your car from wind, hail, deer, fire, vandalism or theft.
Collision coverage: May help if you collide with another object.
Second: Choose the rental coverage that covers any gaps in your personal policy.
However, depending on what the rental agency is offering, it might make sense to purchase additional coverage.  Rental Car Insurance is typically broken down into four sections:
Liability coverage: Helps to protect you if you injure another person or their property while driving.  Depending on how much liability coverage you have with your personal policy, you may not need to purchase any additional coverage here.
Collision/loss damage waiver: Signing this waiver may help cover the costs of repairing the rental car if something comes up. This may duplicate coverage if you have comprehensive and/or collision coverage on your personal policy.  You should have one or the other to lessen the risk of paying for any damage out of your own pocket.
Personal effects coverage: Helps cover your personal belongings if they get stolen out of the rental vehicle.  Make sure to check your homeowners or renters insurance policy first, because your personal property coverage usually includes "off-premises coverage."  Call your Noah Risk Advisor and ask about the limits of your coverage to see if you might need to purchase more during your trip.
Personal accident insurance: Helps with your or your passengers' medical bills if they are injured in an accident with the rental vehicle.  Check out your health insurance coverage for medical payments coverage or personal injury protection to reduce the chances of doubling up insurance.
Further, here is a great video explaining this from Allstate Insurance.
If you're still not sure if purchasing rental car insurance is the right move for you, call a Noah Risk Advisor to find out where you have a lapse in coverage.  After you understand the coverage you already have, you'll be able to make an informed decision about what you need to purchase while at the counter after you step off the plane.
AMERY: 715-268-6624
CUMBERLAND: 715-822-3355
FOREST LAKE: 651-464-2168
OSCEOLA: 715-294-2510
PRESCOTT: 715-262-3216
STILLWATER: 651-430-0085
OR